First page . . . Back to page 4 . . . Forward to page 6 . . . Last page (page 7)
The inside-out differential is nice, but it takes up a lot of vertical space. I also saw that the 40-tooth gear wasn't being used for anything aside from being a platform for the stuff on top of it. So, I decided to redesign it to save vertical space.
Here is the result:

2C: Optimized and Regeared
The elimination of the differential meant that the bottom 16-tooth gear now has to be driven a lot slower than in model 2B. So, this model also uses different gearing inside the box.
20080117
I have finished the first draft of building instructions for model H. You can see me testing them here (actual elapsed time: 91 minutes)
20080124
Today I thought a bit more about an old challenge I set myself when first considering LEGO orreries — multiple concentric axles. I realized that if the gears were 8:16, 12:12 and 16:8, the Jovian Moons ratio of 1:2:4 would result — so I started building, determined to find a way to secure the flex cable (LEGO's only option for the center in triple-concentric motion) to a gear.
The breakthrough was realizing a tiny rubber band (one of the black ones, and preferably the smallest size LEGO makes) would work quite nicely to hold the flex cable inside the gear, by filling the gaps in the gear's center.
Just a couple hours later I had this!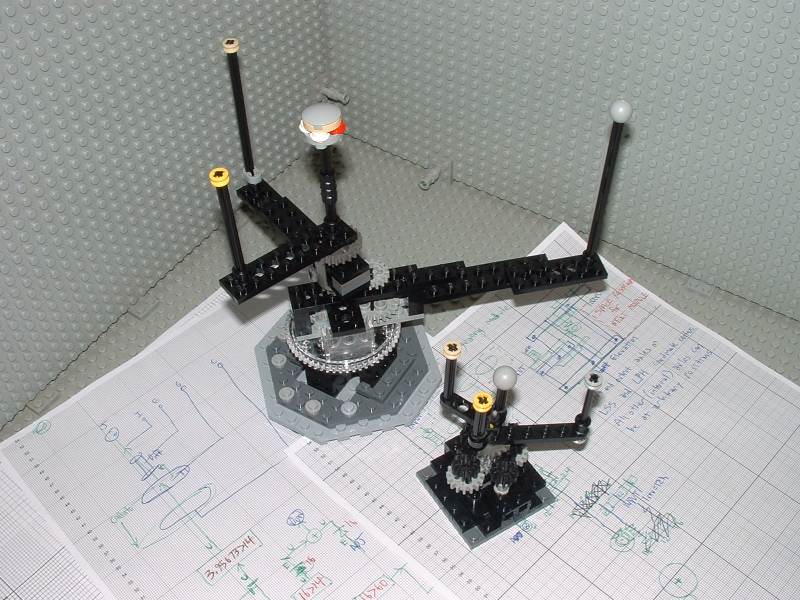 3A: Downsized Jovilabe
When I grow up, I want to have 5 planets and 4 moons!
What's that sonny? When I was yer age, all our bricks faced

up


— and the only piece that

turned

was part 7039...
The base uses fairly standard building techniques to produce 4 vertical axle-holes each spaced 1.5 studs from the center. This makes great use of part 4070 and part 3794.
---
Stacked Turntables: Two-Module Prototype
20121215
After a long hiatus, an email request led me to review the most promising general-purpose design, which I called "Stacked Turntables, method 3". I still had the prototype I made back in 2008: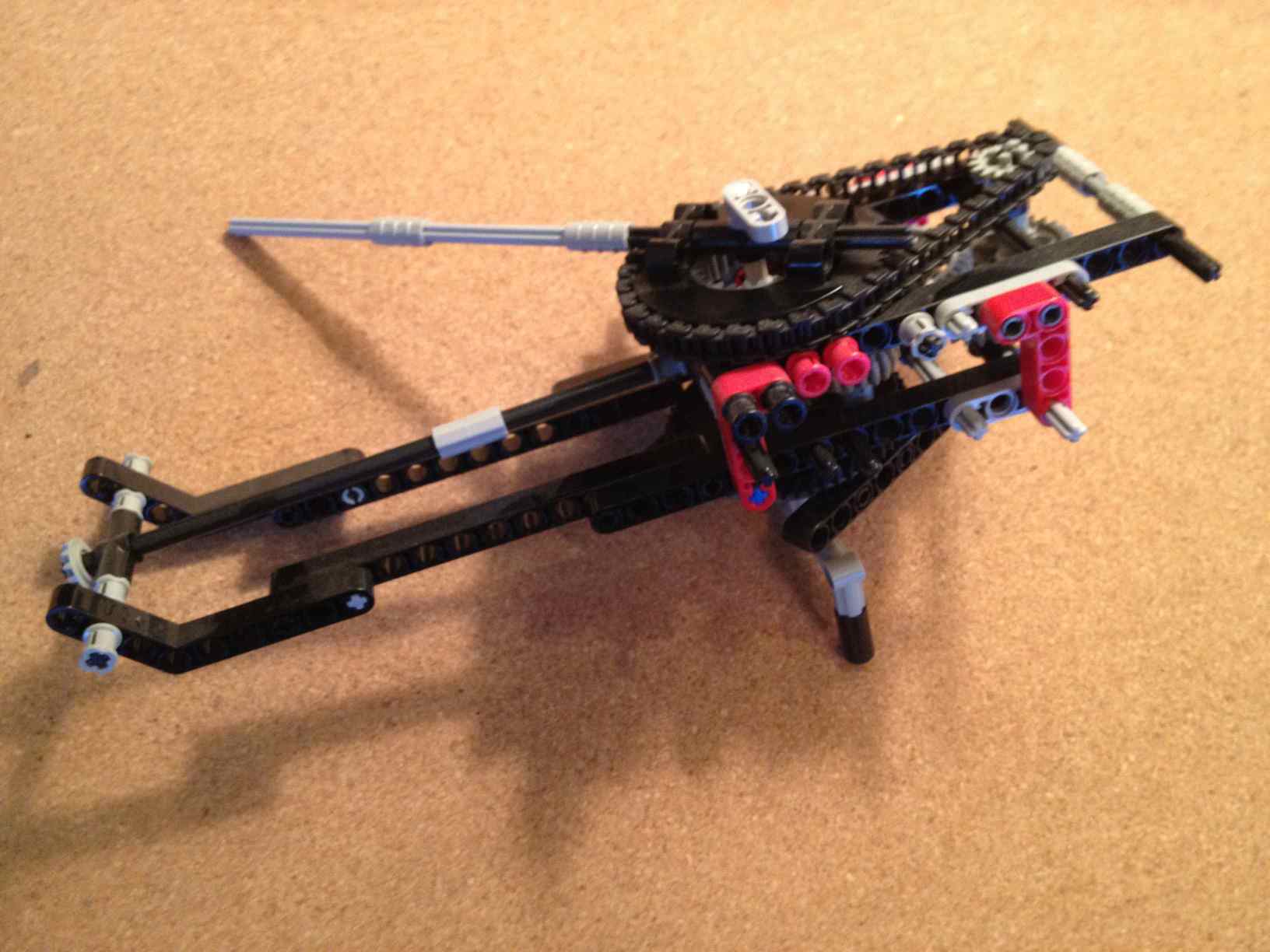 my prototype from 2008
I started by showing how this module was built, which you can see in detail here: Stacked Turntable Module (method 3) Building Instructions.
This first module was special because it has almost exactly the right gearing to display the phase of the Moon on a clock. But in order to be of much use, the "stacked turntable" design needs to be more modular.
So I took this prototype apart and re-worked it into something that would be more useful in a larger design. Then I built another similar module, plus a small base and a top to show how it fits into a complete construction: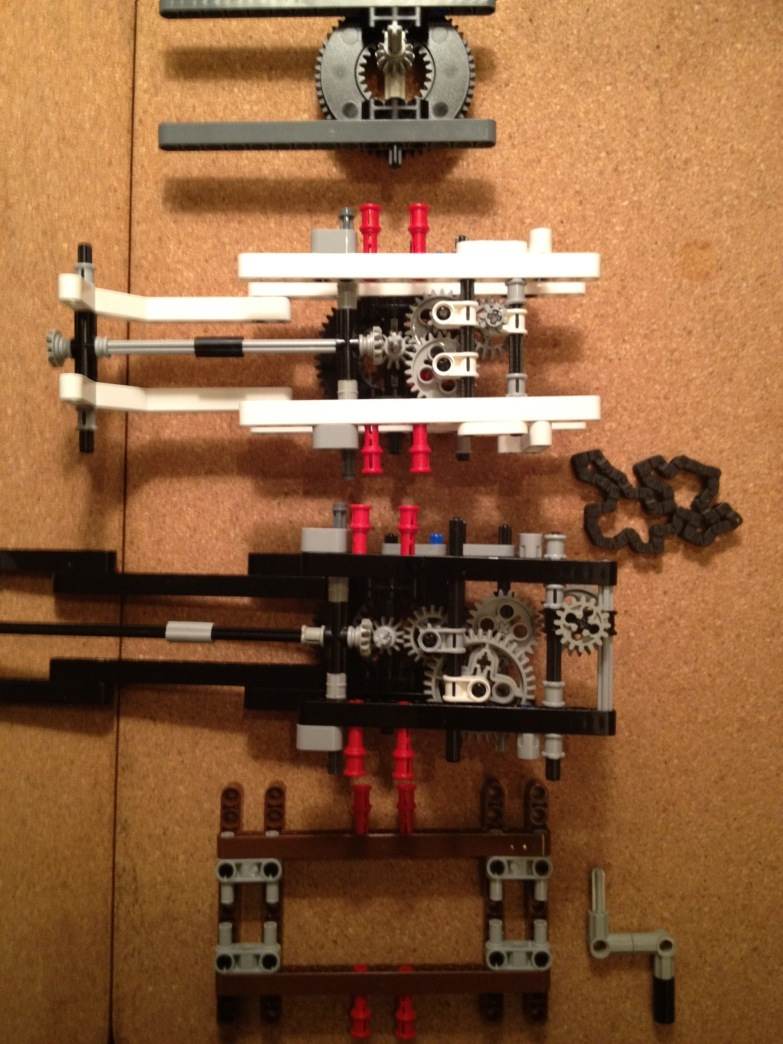 parts of the two-module stacked turntable prototype
Several more photos of this prototype are shown here: Earlier prototype: Two Modules with a Base and Top
20121221
Stacked Turntables: Four-Module Prototype
I continued by adding a more complete base that drives the bottom turntable module: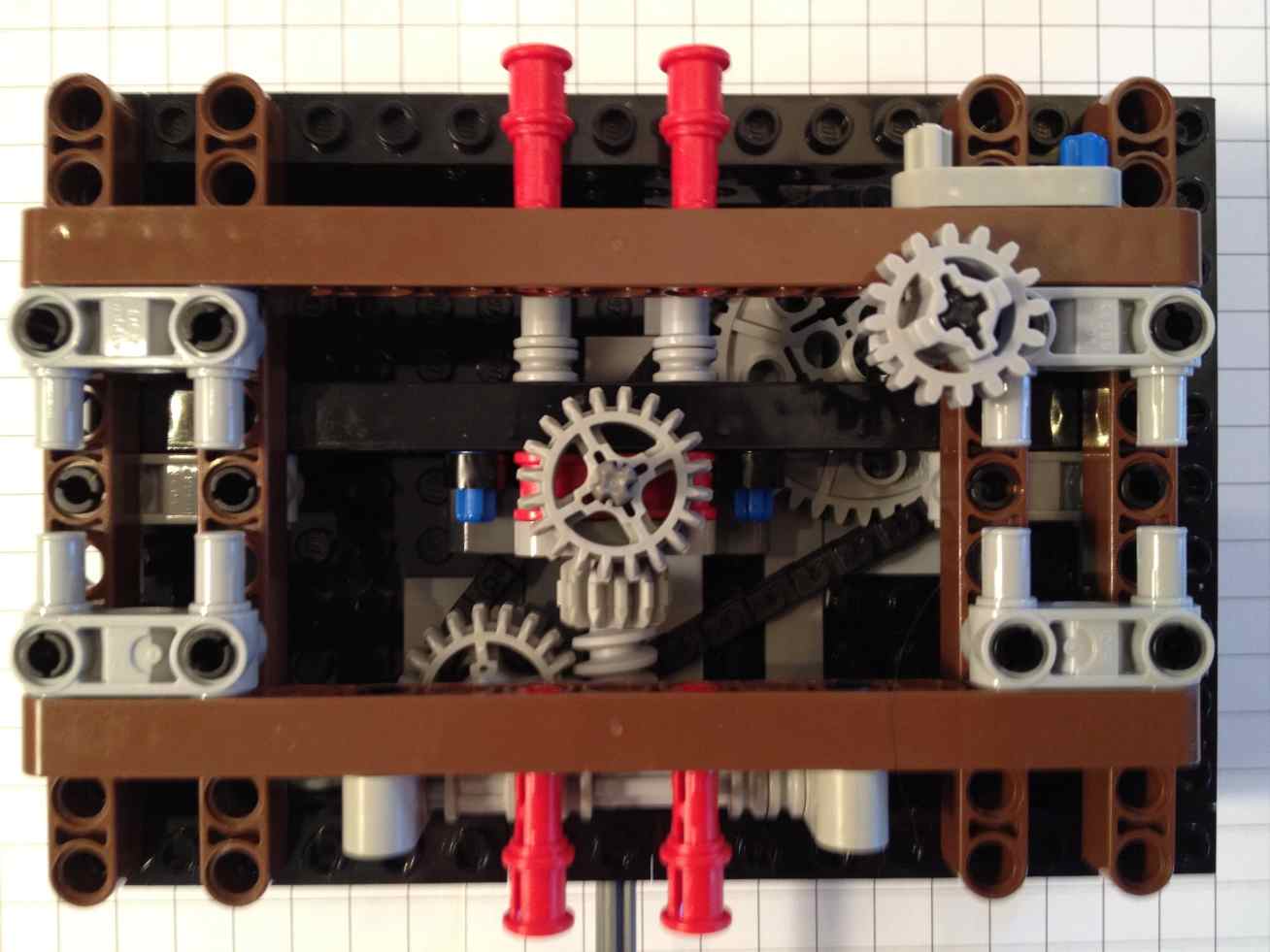 a base for stacked turntables
and added two more modules demonstrating the use of the new smaller turntable:
| | |
| --- | --- |
| 3rd module, supporting a small turntable | 4th module, using the small turntable |
then I made sure that the modules were really interchangable:
| | |
| --- | --- |
| with black module left out | with white and black interhchanged |
This is all illustrated with more photos at: 3 1/2 Modules with Interchangability
---
20121227
Peer Kreuger's
The Tinkerer
During a routine search for other recent Lego orrery work I discovered this gem by Peer Kreuger [4] :

8x8 vignette "The Tinkerer"
This is much like my Model 2C but with a base exactly half the size. I like to miniaturize things so this immediately appealed to me.
I soon made this: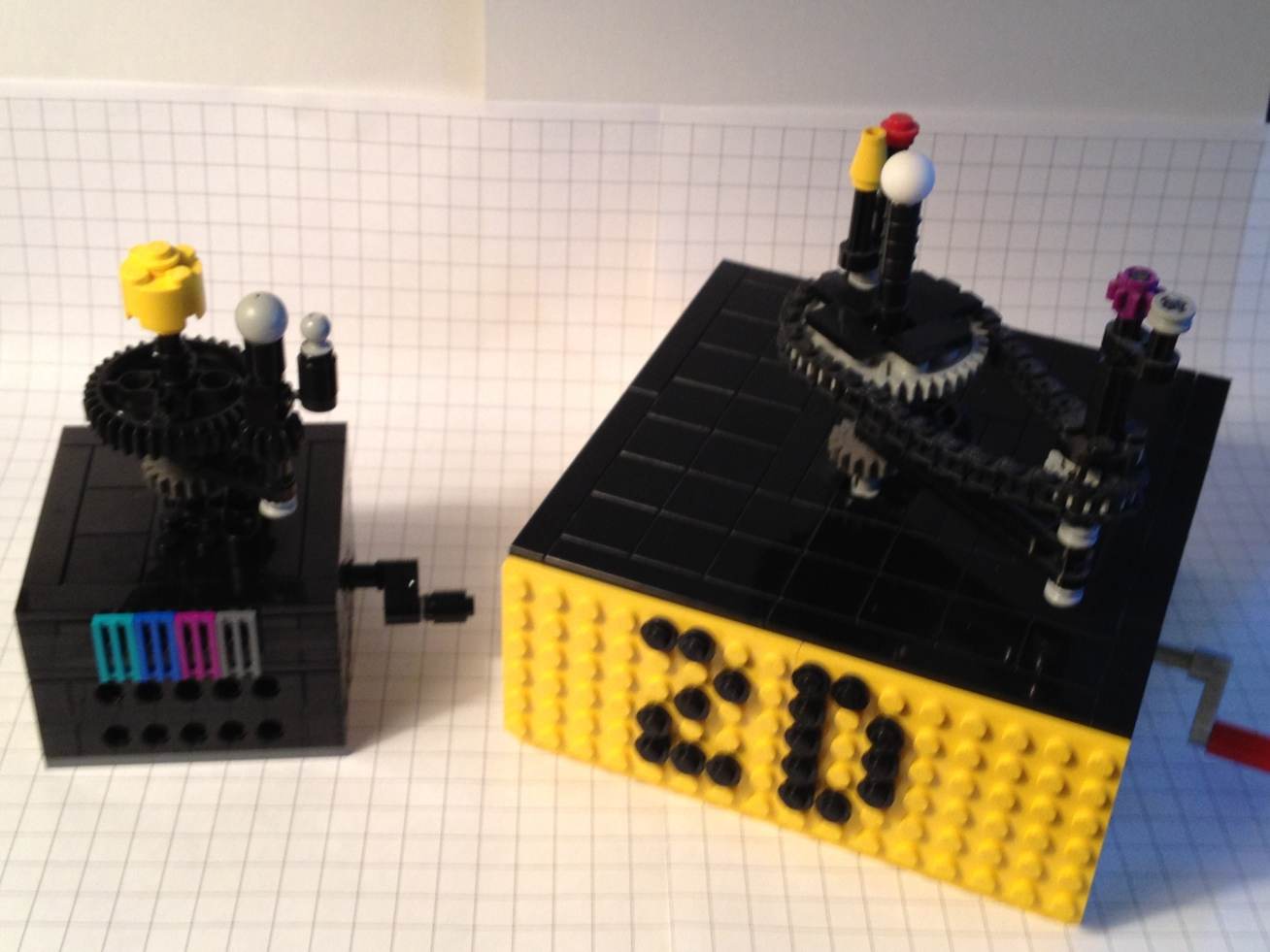 My take on PKT, next to 2D
I designed it to be easily disassembled: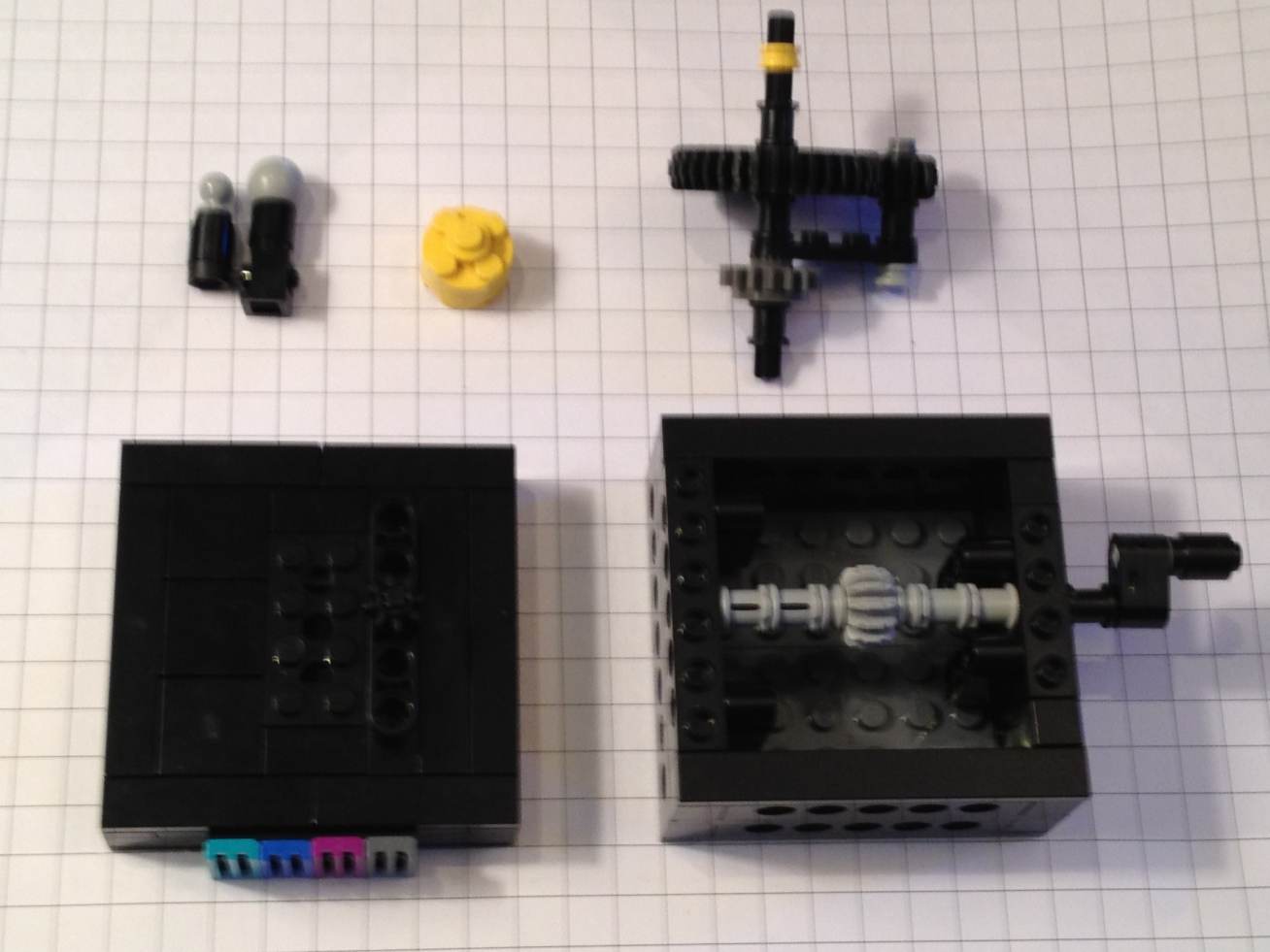 The "modules" of PKT-A
Separating the two parts of the base allows the gears to be converted to left-handed operation simply by turning the bottom half of the base by 180° and putting it back together.
20121228
I really like reducing things to half size: see for example RILYBOT 3 and the mini Jovilabe. Since Peer Kreuger's model is sort of a half-size version of my Model 2C, naturally the question came to mind, can we make a half-size version of Peer Kreuger's model?
Of course, the answer is yes: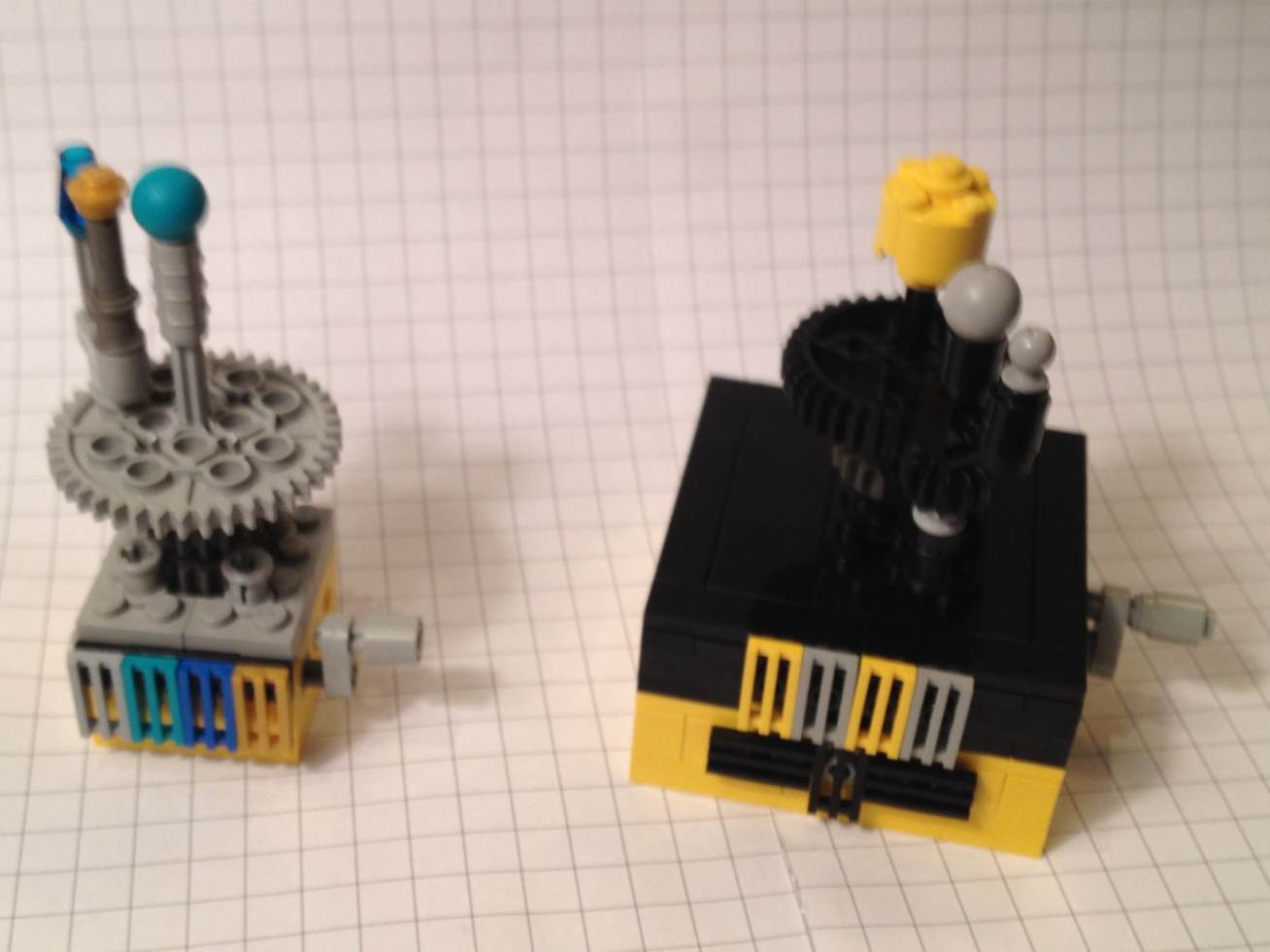 PKT-B (left) a half-size reduction of PKT-A (right)
This one also comes apart, and can be switched to left-handed: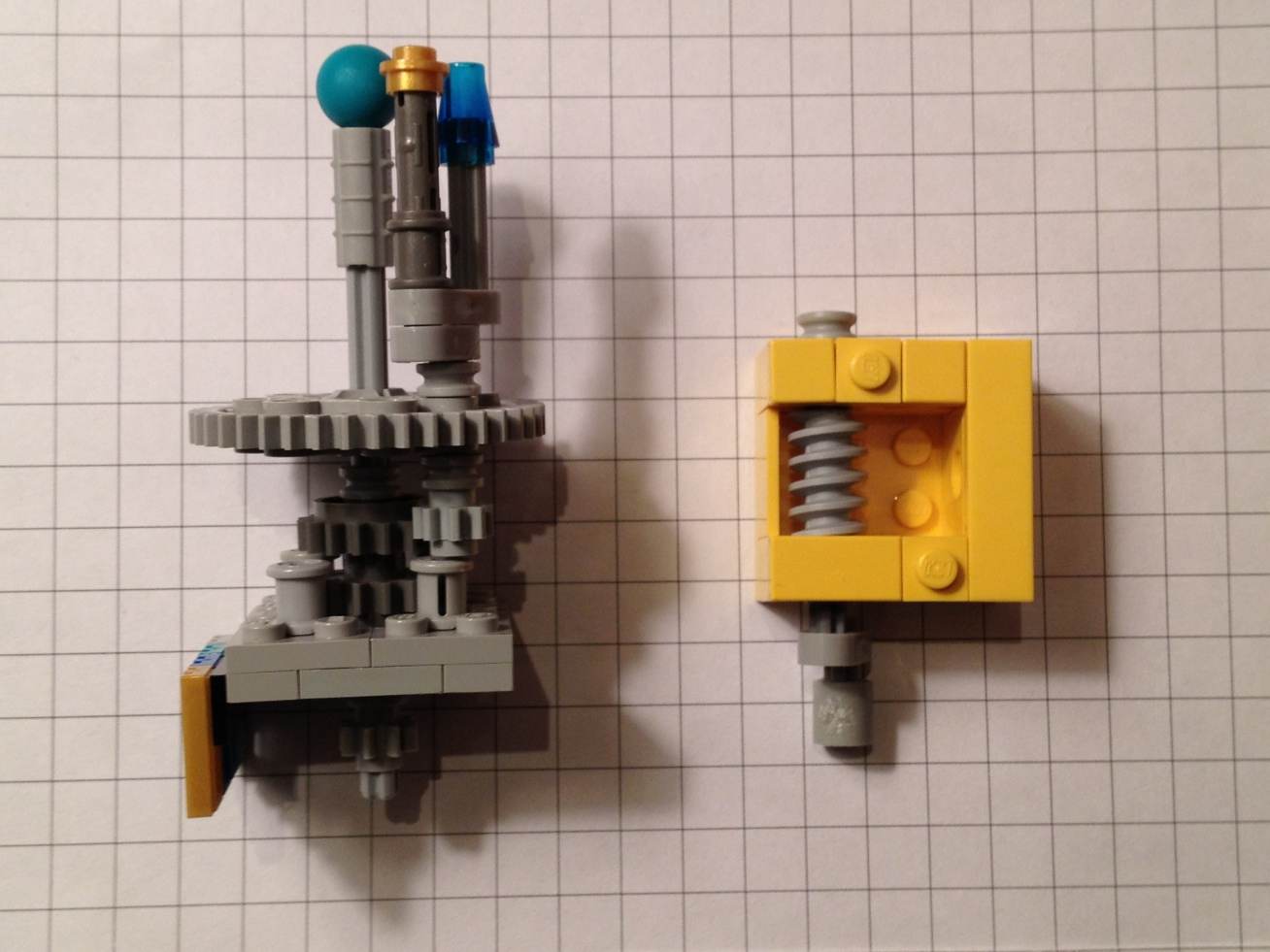 orrery and 4x4 base
Next I worked on modest changes to Kreuger's design, aimed at reducing the total height:
| | |
| --- | --- |
| original based on Kreuger | height-reduced version |
Since this orrery has "modules", I was able to keep parts of it. These are the parts that changed: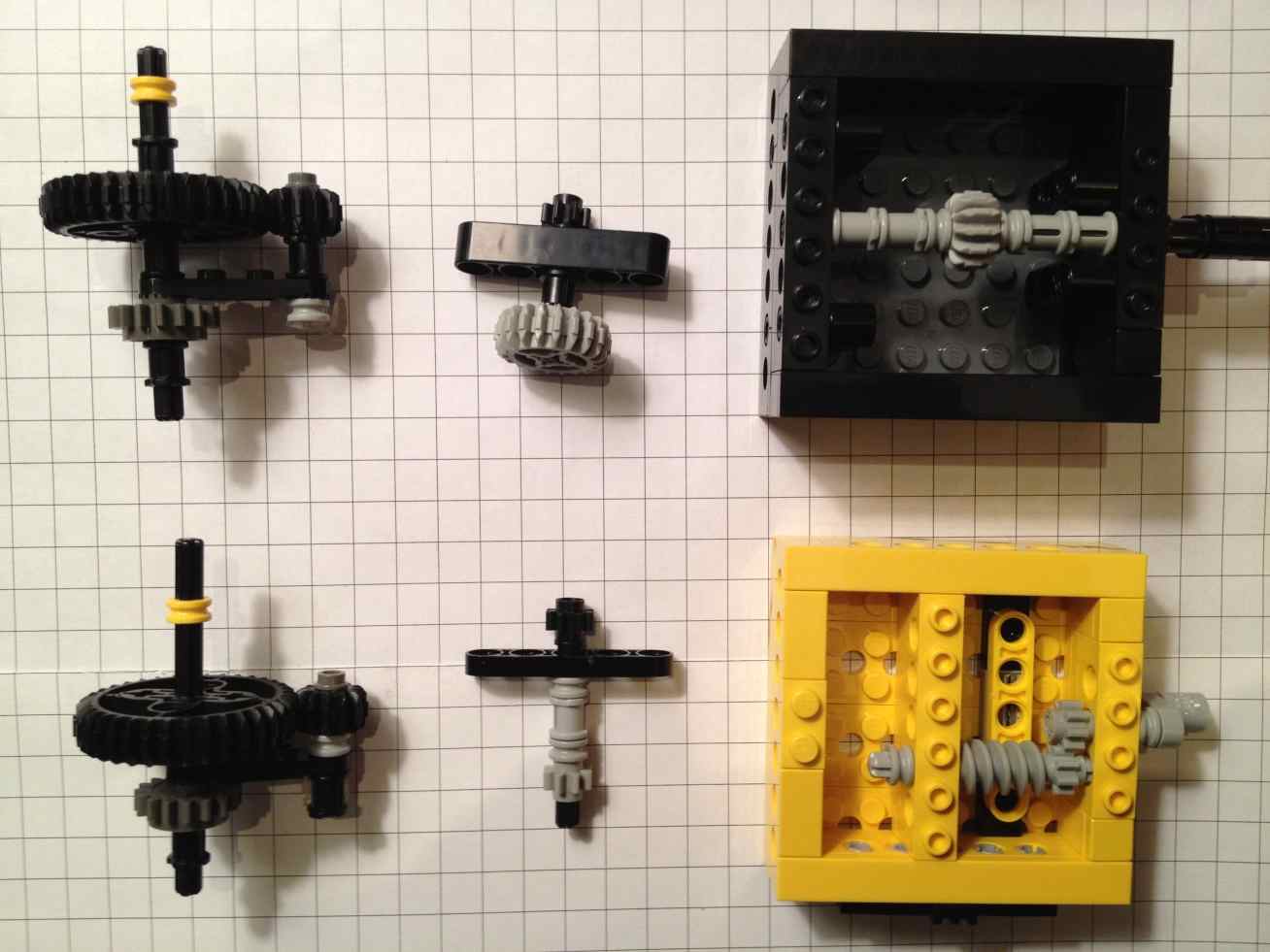 old parts (top) and new (bottom)

---
First page . . . Back to page 4 . . . Forward to page 6 . . . Last page (page 7)
---
LEGO® creations index
The graph paper in my newer photos is ruled at a specing of 1 LSS, which is about 7.99 mm.
---
This site is not affiliated with the LEGO® group of companies.
LEGO®, Duplo®, QUATRO®, DACTA®, MINDSTORMS®, Constructopedia®, Robotics Invention System® and Lego Technic®, etc. are trademarks or registered trademarks of LEGO Group. LEGO Group does not sponsor, authorize or endorse this site.
All other trademarks, service marks, and copyrights are property of their respective owners.
If you want to visit the official LEGO® site, click here
---
Parts images are from LUGNET. On this page they explicitly give permission to link to the images:
Note: you may link (as in, Yes, it's OK) directly to these parts images from an off-site web page.


---

s.11