Non-Obvious Answers to the Stupid Problems Life Gives Us  
Problem: Where do I find one of those old-fashioned jar openers (also called a "lid wrench")? (figure 1) They worked so much better than all the modern alternatives.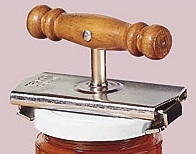 figure 1
Answer: Go to the hardware store and buy the largest plumber's wrench you can find. (figure 2)


figure 2
(A reader wrote to tell that the real thing is still sold. Search for "twister jar opener" using your favorite search engine.)
---
Got the idea? Send me more! Help defeat the little cultural gremlins that try to make life more difficult than it needs to be!
---
This page was written in the "embarrassingly readable" markup language RHTF, and was last updated on 2022 Mar 25.

s.27