Gray Robot Man  
At the Construction Site event that I mentioned on this page, there was a huge bin of LEGO® elements, and some of us took the opportunity to build things entirely out of one color. I decided to take this one step further and build something entirely out of one piece — and I deliberately chose the most useless piece I could find in the bin. Here is the result: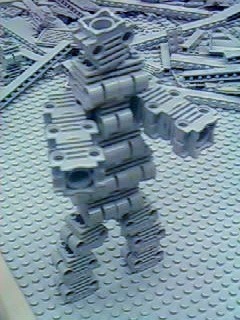 Robot-man built entirely from gray engine cylinders
I could barely get it to hold together long enough to take the picture! (-:
---
LEGO® creations index
The graph paper in my newer photos is ruled at a specing of 1 LSS, which is about 7.99 mm.
---
This site is not affiliated with the LEGO® group of companies.
LEGO®, Duplo®, QUATRO®, DACTA®, MINDSTORMS®, Constructopedia®, Robotics Invention System® and Lego Technic®, etc. are trademarks or registered trademarks of LEGO Group. LEGO Group does not sponsor, authorize or endorse this site.
All other trademarks, service marks, and copyrights are property of their respective owners.
If you want to visit the official LEGO® site, click here
---
Parts images are from LUGNET. On this page they explicitly give permission to link to the images:
Note: you may link (as in, Yes, it's OK) directly to these parts images from an off-site web page.


---
This page was written in the "embarrassingly readable" markup language RHTF, and was last updated on 2019 Jan 05.

s.11