Combining Three Touch Sensors  
The three touch sensors are wired through a resistor ladder to a single sensor input. Using three different resistor values, the 8 combinations of ON and OFF become 8 distinct input levels, and the robot software can decode the input into three separate binary input values.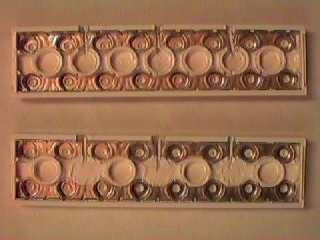 modified electric plate

The upper plate has been cut in three places so that the conductor running along that edge is broken into 4 separate segments.
The lower plate has been further modified by removing the "tube" material in 3 places.
---
---
LEGO® creations index
The graph paper in my newer photos is ruled at a specing of 1 LSS, which is about 7.99 mm.
---
This site is not affiliated with the LEGO® group of companies.
LEGO®, Duplo®, QUATRO®, DACTA®, MINDSTORMS®, Constructopedia®, Robotics Invention System® and Lego Technic®, etc. are trademarks or registered trademarks of LEGO Group. LEGO Group does not sponsor, authorize or endorse this site.
All other trademarks, service marks, and copyrights are property of their respective owners.
If you want to visit the official LEGO® site, click here
---
Parts images are from LUGNET. On this page they explicitly give permission to link to the images:
Note: you may link (as in, Yes, it's OK) directly to these parts images from an off-site web page.


---
This page was written in the "embarrassingly readable" markup language RHTF, and was last updated on 2019 Jan 05.

s.11