<!- ============================ Left-hand side =========================== ->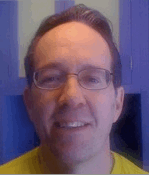 Info
Photos
Friends
---
Warren, Rhode Island
7 Lord Hall - HB 2801
Phi Tau - Glee Club - GSA
---
Married to
| | |
| --- | --- |
| | Rick Hendrie |
---
Friends
| | |
| --- | --- |
| | Tyler Made |
| | |
| --- | --- |
| | Rhonda Kapit Wynston-Kraft |
| | |
| --- | --- |
| | Roger Bourgeois |
| | |
| --- | --- |
| | Joseph Fineman |
| | |
| --- | --- |
| | Peter Gemma |
| | |
| --- | --- |
| | Andrew Sornborger |
| | |
| --- | --- |
| | Susan Gillis Stephens |
<!- =========================== Center column ============================ ->

Robert Munafo
Independent Researcher * Studied Electrical Engineering at Dartmouth College * Lives in Cambridge, Massachusetts * Married to Rick Hendrie * From Slidell, Louisiana


---
<!- ---------------------------------------------------------------- ->
Robert is learning Japanese.
My favorite part is the Chinese charcters - you have to learn thousands of them, and there are only a few patterns with many exceptions - just like learning words in English I suppose.

about 1 month ago - Like - Comment
---
<!- ---------------------------------------------------------------- ->
Robert gave a talk at Rutgers.
I showed hitherto-unseen complexity in the pattern-forming behavior of the Gray-Scott reaction-diffusion system. For cool pictures, videos, and slides go to mrob.com/pub/comp/xmorphia and mrob.com/sci .

about 3 months ago - Like - Comment
---
<!- ---------------------------------------------------------------- ->
Robert got married to Rick Hendrie.

about 3 years ago - Like - Comment
---
<!- ---------------------------------------------------------------- ->
Robert worked as a chimney sweep.
No kidding - Chim-chimeny-yes-siree! The trade professional experience was great, and I learned a lot about how to handle fear of heights and how to talk to customers (same answer in both cases). The views were great, the weather not-so.
That's me about 40 feet off the ground, atop a huge mansion near Boston.
about 4 years ago - Like - Comment
---
<!- ---------------------------------------------------------------- ->
Robert has written hundreds of web pages.
My main site is mrob.com (named after my house name at Phi Tau). Most is about math, science, and/or computers, but there is something to interest nearly anyone.

about 10 years ago - Like - Comment
---
<!- ---------------------------------------------------------------- ->
Robert worked for VideoGuide.
We created a "set-top box" with TV listings, news, sports and weather. The cool thing about it was that it was sold at Radio Shack, and my name was in the credits along with about 15 co-workers. I did the infrared remote control input and output.

about 15 years ago - Like - Comment
---
<!- ---------------------------------------------------------------- ->
<!- ================================= Right-hand side =================== -> Blitz Punt Scope XYZ

Find More Friends
---
Meet Dartmouth 86
Classmates Now!

www.dartmouth86.com
/25th-reunion

x
---
| | |
| --- | --- |
| | Learn about Dartmouth's pioneering efforts in computing as an enabler of social networking: |
The Dartmouth Computing Timeline (HTML)
BASIC and DTSS: Everyone a Programmer (HTML)
Campus Email For Everyone (PDF)
---
---